 Caisson removal and transportation
Five caissons which until recently have been used to moor the spare lock gate of the Noordersluis at IJmuiden have lost their purpose because of renovation activities. To remove and transport the caissons safe and efficiently to a new destination. HAPO International Barges B.V. has awarded Saltwater Engineering to perform transport engineering by deploying their H-332 barge which is fitted with the PLM 15000 E ringer crane.
Safety first

First a rigging plan, with a custom designed lifting beam, and a loading plan are developed to fully utilize the barge. SPMT's are being deployed to shift two of the caissons on deck because the available crane capacity is not sufficient to position all caissons by lifting only. In addition, a seafastening design and deck strength verification is performed and merged into a stowage plan to ensure safe transport.
One of the main challenges was to create lifting points to enable the crane to hook up efficiently onto the caissons. In close cooperation with civil engineering company IBT B.V. the solution has been found to design custom trunnions which will be slid into pre-drilled holes of the upper part of the caissons.
In all performed engineering elements Saltwater has shown to be able to find custom solutions which fully fit the client's needs and capabilities, without losing sight of quality and cost efficiency.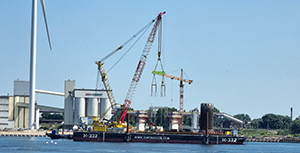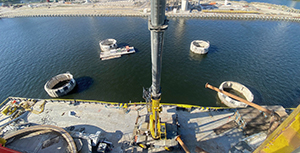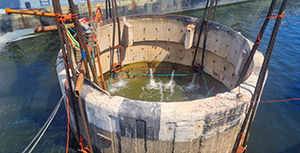 Rigging plan
Lifting beam design
Loading plan
Sea fastening design
Deck strength verification
Stowage plan
Lifting points design
Get in touch with one of our consultants